Kinetic Super
Multi-Stage Video Campaign
Problem: I want to stand out online
Kinetic Super is a super fund for young people on the go. They wanted to encourage their audience to engage with their superannuation - a tough call as it's decades away from being relevant to them.
Kinetic were looking for a online video partner to help them stand out online by explaining just how super works and how to make the most of it.
Kinetic Super's re-branding broke the mould of traditional superannuation advertising, with energetic executions across TV, outdoor, digital and social media. We were set the challenge of creating a suite of videos to sit on their website to educate and break down superannuation to an audience largely disinterested in the concept.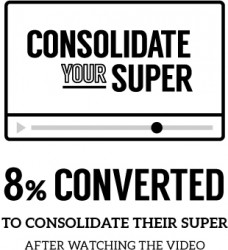 In the first three months (September-December 2014) the videos had 5% of total engagement over the entire website, without even actively promoting them. We are now in our 3rd stage of work with Kinetic and working with them to develop their content strategy further.
Credits
Senior Account Manager: Emily Simmons
Producer: Nicky Marshall
Assistant Producer: Bheki Mkwananzi
Writer: Nick Richardson
Creative Director: Darryn Rogers
Motion Graphics: Kelsy Shanahan, Svetoslav Atanasov, Robert Pregardt-Paur